Undergraduate Research Makes a Full Court Press
Monica Cooney
May 1, 2023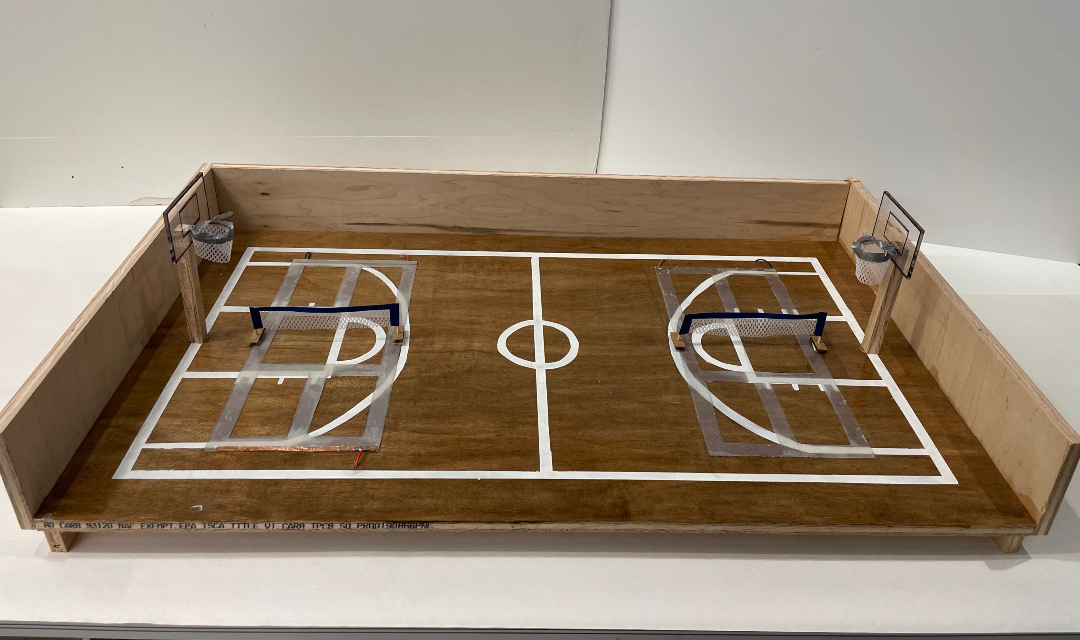 Multisport courts are used in facilities across the country to accommodate a variety of activities, such as soccer, flag football, basketball, and pickleball in a single space. These courts typically have many lines indicating various boundaries specific to each sport, which can be confusing to participants as they try to determine which lines are meant for their activity. While some facilities are able to use LED lighting to remedy this issue, the costs associated with this option are prohibitive.
An undergraduate materials science and engineering team advised by MSE Professor Vincent Sokalski used their capstone project as an opportunity to demonstrate a more affordable solution to making multisport courts less confusing, creating a model that showcases the feasibility of the idea.
This project was the best practical application of classroom taught knowledge obtained from past courses.

Kacy Liang, senior, materials science and engineering
Senior students Alan Gallardo, Kacy Liang, Abby Ngowe, and Justin Ryu used a polymer-dispersed liquid crystal (PDLC) film, which is part of a special class of materials known as electrochromics whose optical properties can be changed by exposure to an electric field, to showcase this approach. PDLC films embedded into a stack of conductive polymer layers allow for its changing from transparent to opaque with the flip of a switch. Traditionally used in privacy glass, the team used this material because of its ability to withstand the mechanically demanding environment associated with multisport courts, as well as its ability to be processed into different shapes needed for the various lines.
The capstone class, a requirement for all undergraduates, affords the opportunity for students in their senior year to take what they have learned thus far and apply it to a hands-on learning project. 
"This project was the best practical application of classroom taught knowledge obtained from past courses," said Liang. "For example, we utilized American Society for Testing and Materials (ASTM) standards to structure our material tests and conducted tensile testing on the Instron, a machine we used in a previous lab course.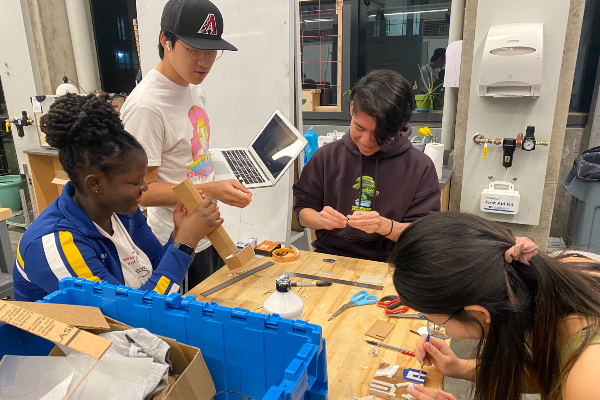 Using a compression test apparatus, the group found that PDLC fails when pressure exceeds about 7000 psi - far more pressure than the court's typical use would be exposed to. The team also examined the change in optical properties as the material was exposed to more force, as well as the impact on opacity when stacking layers of the material.
Following these initial tests, the group members developed a two-court version prototype that had basketball court dimensions scaled to an NBA court, as well as a pickleball court. Using maple hardwood along with PDLC film lines connected to a battery, the model examined the differences between one and two layers of PDLC. 
"This experience taught me about the high level planning that is required to bring a project from ideation to execution," said Ngowe. "It helped me advance my skills in setting long-term and short-term deliverables that would resemble those encountered in a professional environment." 
Lastly, the group conducted a feasibility study reviewing patent novelty, environmental impact, installation, maintenance and cost considerations. They proposed developing a mold for the line shapes and dimensions in order to contain costs and covering with polyurethane and wax to best maintain the lines over time.
Participating in the capstone course effectively prepares students for their next step after completing their degree, whether it is in continuing their education or entering the workforce. 
"It is important for undergraduates to gain experience working with peers in a project setting to build effective and productive mindsets and habits that will prepare them for whatever professional endeavors they choose to take," said Gallardo.
This project will continue to be further developed as future capstone classes work with faculty to identify solutions that have potential for real world application.