New MSE faculty member combats climate crisis between triathlon training
Kaitlyn Landram
Sep 26, 2022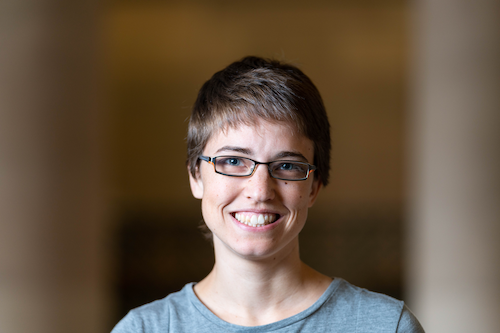 Rachel Kurchin didn't have far to relocate when she joined the Department of Materials Science and Engineering at Carnegie Mellon University this fall as an Assistant Research Professor. The computational materials scientist had been a postdoctoral researcher under Venkat Viswanathan in the Department of Mechanical Engineering at CMU for the past three years.
"I was super impressed by CMU," Kurchin explained when describing her search for post-doctoral research opportunities. "I got to expand my horizons through the research Venkat was doing, but it was a natural progression from my prior experience."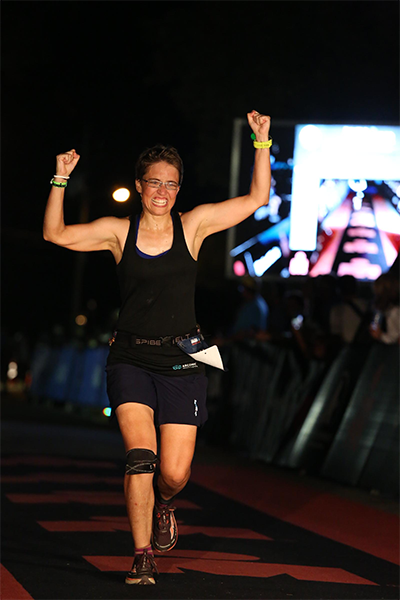 Kurchin's research uses electronic structure theory, data science, and energy device modeling to fight the climate crisis by helping develop better and/or cheaper materials for use in devices crucial to a carbon-free energy system. During her PhD, she worked to understand, from the atomistic to the device level, why some photovoltaic absorbers can perform well even in the presence of a high concentration of point defects. She also developed theories that can guide design of new such materials. While she is a computational researcher now, she spent the beginning of her PhD in the lab, and leverages those close experimental ties to bridge experiment and simulation using data science.
"We could make devices with new materials and measure the current-voltage curve in a really cool, automated setup in our lab," she explains. "By taking a finished solar cell and applying different voltages at different temperatures and with different amounts of light, we can tell a lot about what's going on in the device by how much current comes out." 
Computational researchers typically go in the opposite direction—assuming some properties of the device and simulating what the electrical response would be, rather than inferring the properties from the current. To "reverse" this process, Kurchin developed a Python software package capable of assimilating both simulated and experimental data and estimating the values of important materials parameters.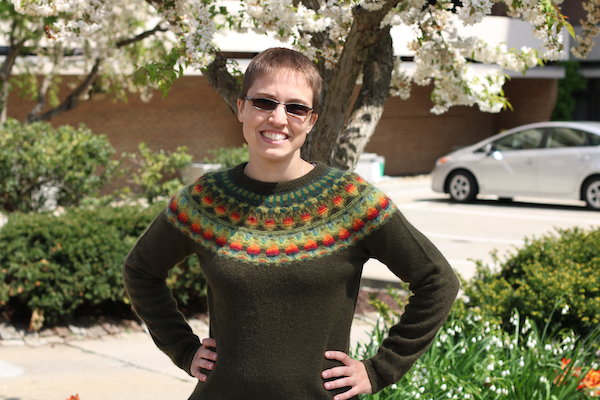 The findings of Kurchin's research may result in low-cost photovoltaic materials that are non-toxic and more stable than what is currently available.
As a postdoctoral researcher, she turned her attention from renewable electricity generation to battery storage and other electrochemical devices. Thanks to a new theory she developed, electric vehicle owners maybe able to more efficiently charge their vehicles at a faster rate. She has also continued developing code for a variety of applications including machine learning for atomistic systems, and is excited to bring this research software engineering experience to mentees in her research group.
In the spring, Kurchin is looking forward to teaching the MSE introductory course, Engineering Materials of the Future. "As an undergraduate student, it's your whole job to learn. I think that frees students up to be curious and absorb all the new information around them. It's that energy that I'm eager to be exposed to."
Along with being an advocate for diversity in STEM, Kurchin is passionate about the importance of managing stress and creating a healthy work-life balance. 
I hope to set a good example to students interested in academia and show that being a faculty member doesn't have to mean working 14-hour days, 7 days a week.

Rachel Kurchin, Assistant Research Professor, CMU MSE
"I hope to set a good example to students interested in academia and show that being a faculty member doesn't have to mean working 14-hour days, 7 days a week," she expressed. "Sometimes people create a narrative that if you aren't living and breathing your research, you can't be successful, but taking time to clear your head is important."
From knitting to running Ironman triathlons, Kurchin finds plenty of ways to keep her head clear, but confesses her research still finds a way into her thoughts when she's cooking dinner or watching TV. 
"I think that's a good sign," she admits. "It shows that I'm really passionate about my work." 
Rachel Kurchin earned her bachelor's in physics from Yale University, her master's in materials science and metallurgy from Cambridge, and her Ph.D. in materials science and engineering from MIT.